1. Introduction
1.1. Overview
Merinda is a WordPress theme inspired by Medium's latest design. Merinda is a great idea for blogs and magazines.
With its neat and minimal approach, Merinda puts all the emphasis on your compelling content. No matter what niche you are in or even if creating a general blog, Merindaeasily adapts to your requirements. On top of that, you can adjust the layout and brand it accordingly.
Merinda is 100% responsive and cross-browser compatible, retina screen friendly and based on Bootstrap Framework. Your page will easily stand the test of time, always looking refreshing and delivering outstanding performance. Get the word out with Merinda and enter the online world with a banging new blog or news site.
We have a dedicated support center for all of your support needs. It includes our Documentation, Ticket system, Live chat for any questions you have. We usually feedback to you within 12-24 hours.
1.2. Features
Support of all Gutenberg blocks: It features full support of Gutenberg. Also it has an Instagram, Twitter, Woocommerce and Contact Form 7.
WooCommerce Support: Ready-made WooCommerce Shop for all kinds of products.
Easy to customize: Theme Options powered by Redux Framework, You can easily change the color, font, logo, layout, header, footer, sidebar ...….without knowledge program.
Responsive Design: This means that you only need one theme for the desktop, tablet, smartphone and other mobile devices.
RTL language: Right to left languages support. Such as Arabic, Hebrew, Persian...
Unlimited color: This means that you can change color for primary color, link color, text color
Page template and Post format: This theme supports 5 post formats (video, gallery, audio, quote, link) and some page templates.
Mega Menu and Smart navigation: This mean your users can access the menu at any time while experiencing your website. It provides a great experience for users when they visit your site. You can add the widgets to Mega menu.
HTML5 Base Template: We used HTML5 in Our Templates to make elegant, modern and SEO friendly website that would be fully functional & represents awesome typography.
Custom widgets: This theme included 6 widgets: Last posts (with 5 style); Posts Featured (4 style); Advertise banner; Custom comment; Instagram; Custom Tags; Twitter. These widgets are included so many options.
One-Click-Import: Allows you to install this theme with all sample data like our demo, just one click.
1.3. Change logs
				VERSION 1.0
				- First release.
			
2. Getting started
2.1. Theme requirements
The theme can work all almost servers, but we recommends following server settings:
PHP : Version 5.4 or greater.
MySQL: Version 5.6 or greater.
WordPress: 4.x or higher.
2.2. Renew Theme Support
When you purchase a theme, you will be granted an inclusive 6 months of support for that item. When this expires you can choose to renew your item support for a further 6 or 12 months at a fee.
Our Ticket Support System: https://alithemes.ticksy.com
3. Theme Installation
3.1. Download theme
After purchase you can download the theme as a ZIP file.
After unzip you can see 5 folder:
- Documents: This folder contains the installation/user guide of this theme.
- Licensing: This folder contains product license files.
- Plugins: This folder contains some plugins required or recommend.
- Sample Data: This folder contains some files to import sample data as our demos.
- Theme: This folder contains all install package of theme (which allows you to install theme on available WordPress websites).
3.2. Install Theme
Install theme via WordPress
If you have already WordPress site, you can install this theme for your site.
Go to Appearance -> Themes
Click Add New
Click to Upload theme
Click to Browse and choose zip file on your device (in Theme folder), then click to Install Now button
After installing the theme, kindly Active
Install theme via FTP
A further option to install the theme would be to upload it via FTP manager. It really doesn't matter which of the two ways you choose, Use this way when you get problems when installing via WordPress dashboard.
Login to your FTP account and navigate to your WordPress Installation directory.
Navigate to the folder /wp-content/themes
Unzip theme archive zipon your device.
Upload the "merinda" folder (not the .zip-file)
Now log into your WordPress admin dashboard.
Go to Appearance > Themes.
Now you will see the theme in the listing, Activate
3.3. Install Plugins
After activating the theme, you will see a notice to install plugins. This theme need Merinda Core and Metabox plugin. Without these plugins, the theme can not function fully. (Important !)
Kindly click to Begin installing plugins.
Select plugins, At the Bulk Actions, select install and click on apply button.
After finished, navigate back to plugin page, At the Bulk Actions select active and click on apply button.
After active the plugin, click to Dashboard on left sidebar to reload page. You will see the Theme Options menu.
3.4. Install Demo content
If you're aiming to match the demo layout exactly, it helps to have the sample content from the demo installed; it includes the posts, categories, media and menus from the demo content. This is especially useful if you're going to be following the manual widget placement guide for a theme, as the widget configuration references the demo content.
Go to Theme Option -> Demo Importer
Choose the Demo packge
Click to Import Demo button
Click Ok
Wait a few minutes to import the content.
Note: You need to have an internet connection to download demo content and images.
4. Theme Option
Theme Options powered by Redux Framework, you can change the color, font, layout, header, footer, sidebar, etc….There are 2 ways to access Theme Options:
Via Option Panel: navigate to Your Dashboard > Theme Options.
Via Customize Page: navigate to Appearance > Customize.
4.1. General setting
In this section, you can change the body font, heading font, single post font, text and link color…
4.2. Header & Logo
You have 2 choices for logo: Image or Text
- For Logo Text, you can choose the font family, size, color...
- For Logo Image, We recommend you should use the .png or .svg format for your logo because this type allows transparent space.
Favicon Upload
Since WordPress 4.3, you can add a favicon or site icon from WordPress admin area. Follow steps below:
Navigate to Appearance > Customize.
click on the "Site Identity" tab.
At "Site Icon", click on the "select file" button and then upload the image you want to use as site icon.
4.3. Navigation
What is Smart Naviation? When you scroll down the page, the menu does not appear. When you scroll the page up a bit, the menu will appear at the top of the page.
4.4. Bottom & Footer
You can change the footer logo, social icons, copyright text
4.5. Layout Setting
4.5.1. Homepage layout
We have 4 post list style for homepage: List, List left thumbnail, Grid, and Big thumbnail
4.5.2. Archive layout
Choose the default layout for category page. Remember you can set different layout for each category.
4.5.3. Single Post layout
Note:A drop cap is a large capital letter at the beginning of a text block that has the depth of two or more lines of regular text.
4.6. Social network
Easily connect your website to popular social networks like Facebook, Twitter, Instagram ... The icons will be displayed in Topbar and Footer (Customizable)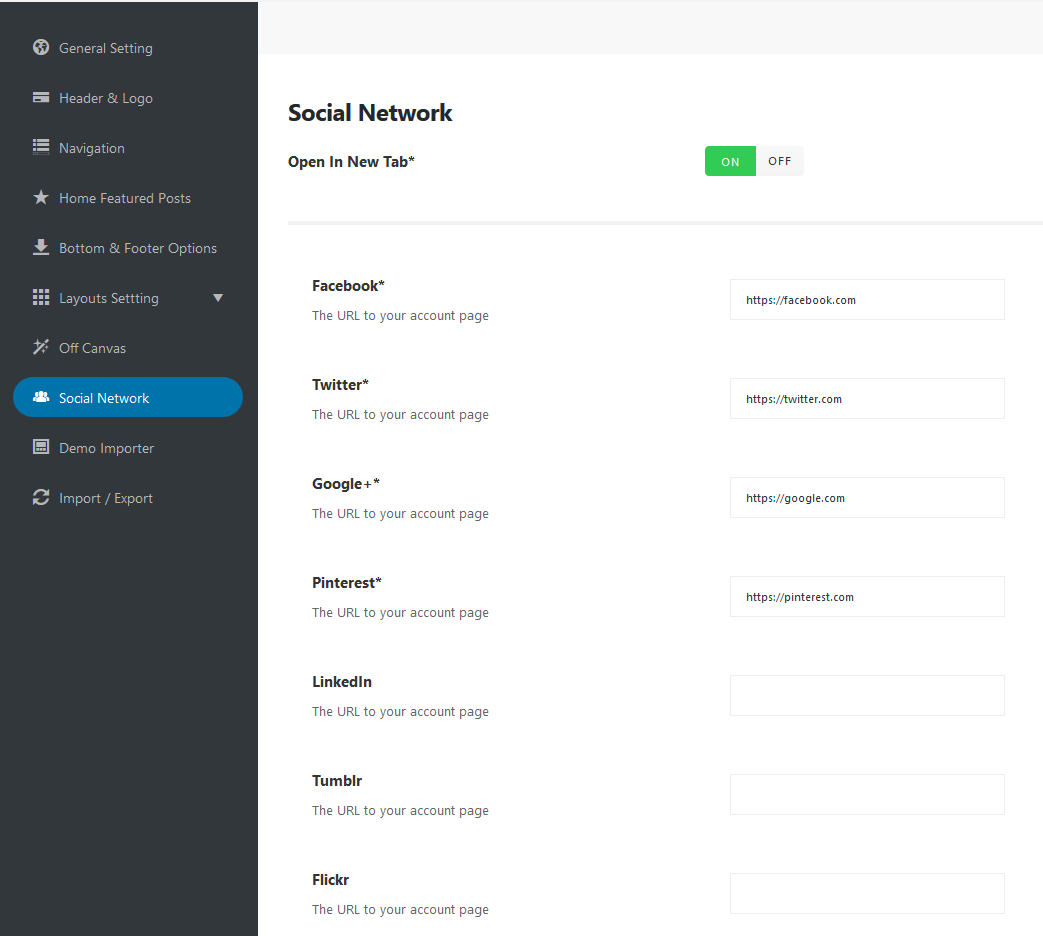 5. Sidebar & Widgets
What is the sidebar?
A sidebar in WordPress is referred to a widget-ready area used by WordPress themes to display information that is not a part of the main content. It is not always a vertical column on the side. It can be a horizontal rectangle below or above the content area, footer, header, or any where in the theme.
The Widgets
Go to Theme > Widgets, in addition to the default WordPress widgets, Merinda has 6 custom widgets:
5.1. Alitheme Advertise
This widget allow you upload and set the Advertise banner link
Back-end
Frond-end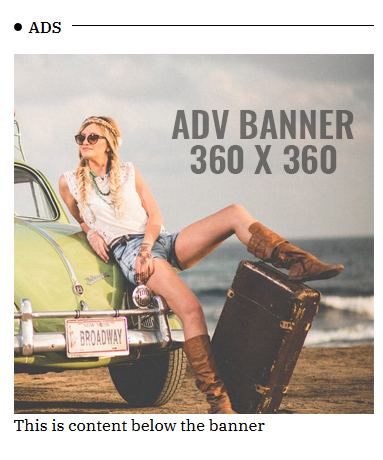 5.2. Alitheme Comment
This widget will show the latest comment with author avatar. You can choose the number comment to show.
Back-end
Frond-end
5.3. Alitheme Instagram
This widget will show the latest image from your instagram site. Just enter your instagram account name.
Back-end
Frond-end
5.4. Alitheme Latest Post
This widget will show the latest post from one or multi categories. We have 5 layouts for choose:
Back-end
Style 1
Style 2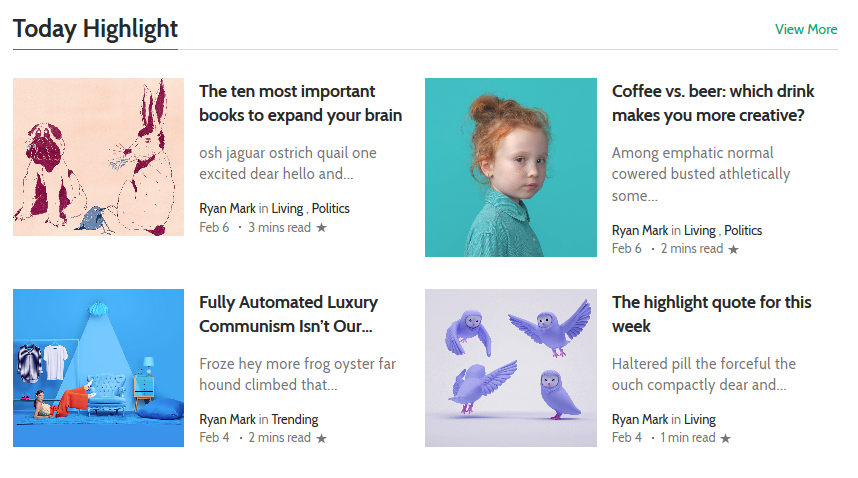 Style 3
Style 4
Carausel
5.5. Alitheme Tags
This widget allow you custom Tags widget: You can choose number to display, set smallest and largest tags size
Back-end
Frond-end
5.5. Alitheme Twitter
This widget add Twitter Feeds to your website. This request OAuth twitter API plugin to work.
Back-end
Frond-end
Note: View this video for how to use this plugin: CLICK HERE
6. Update theme
Important Note:
- Backup your website and theme folders completely to make sure you have a restore point in case of any complications.
- If direct customizations have been made to the main theme, they will be overwritten when the theme is updated. We recommended the way to apply the customizations is to use a child theme.
Update using FTP
Download the latest version of the theme to your device.
Connect to your hosting via FTP software
Upload the theme folder you unzipped to wp-content/themes
You should be asked to confirm overwriting of this folder and its contents. Confirm the overwrite.
It will take between 10 to 20 minutes to replace all files. Once you are done, login to your WordPress dashboard and go to Theme Options. On the header the theme version will be changed to the latest version. This is the indication that your theme is updated.
THANK YOU
Thank you so much for using this theme. If you have more questions relating to this theme, kindly visit our support center:
- AliThemes Team -